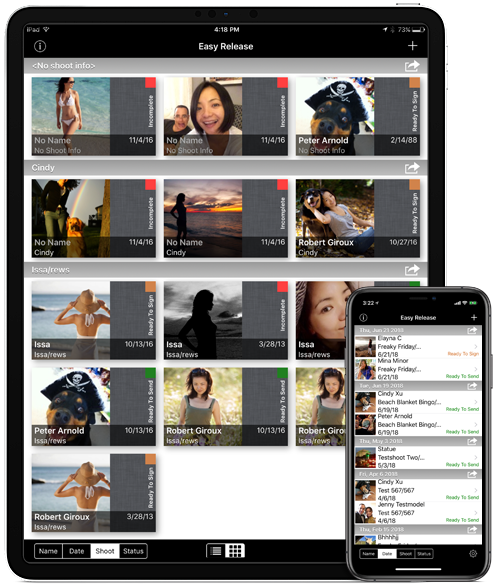 EASY RELEASE™
model release app is THE choice of photographers and other creative professionals to make digital releases from their Apple iOS or Android devices since 2010
Get it Now!
Easy Release ™ by ApplicationGap replaces inconvenient paper release forms with a slick, streamlined model release app designed by professional photographers for professional photographers. Easy Release ™ lets you collect all the data and signatures you need right on your iPhone, then mails a PDF and JPEG of the release right to you. Easy Release ™ builds-in industry-standard and proven legal language that is accepted by the world's leading stock photo agencies: Getty Images, iStockPhoto, Shutterstock, BigStock, Dreamstime, Dissolve, Adobe Stock, Alamy and many, many others but also lets you add your own custom contract language! Plus, Easy Release ™ includes 17 different contract languages, and 7 UI localizations* so you can get the release you need, no matter who, or where you are shooting. Now with unlimited user-defined releases and branding header with logo! Your most valuable photography business tool!
*Android UI in English only.